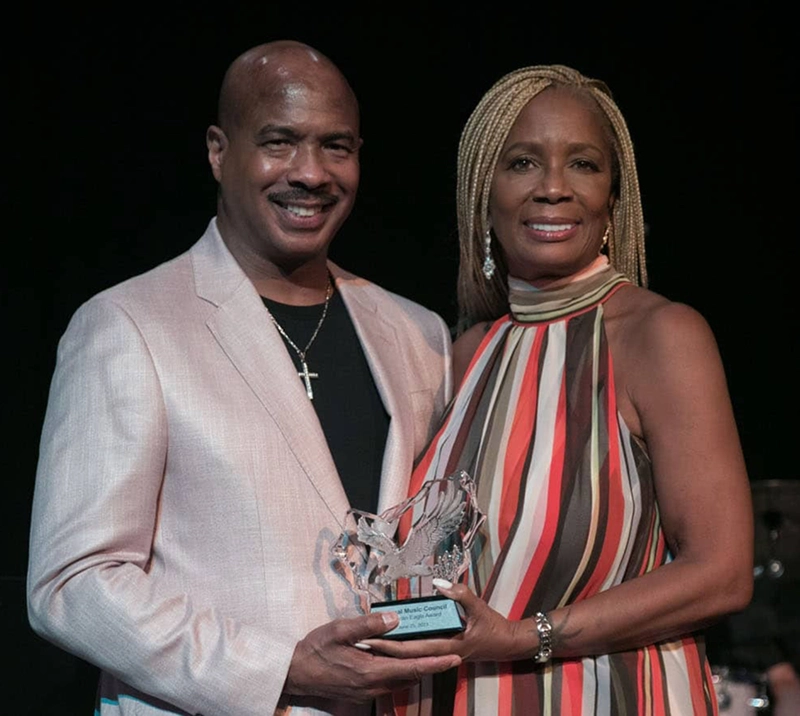 The National Music Council of the United States honored music visionaries Ray Chew and Vivian Scott Chew at the organization's 39th American Eagle Awards on Sunday, June 25, during the American Federation of Musicians Convention in Las Vegas. The honors are presented annually in recognition of those who have made career-long contributions to American musical culture, to promoting the ideal of music education for all children, and to supporting the protection of creators' rights both locally and internationally. This year's honored presenter is Academy Award / multi-Grammy-winning artist Regina Belle.
Her tribute to Ray & Vivian included a surprise emotional performance of "So Glad I Got You", a song written by her late brother, Bernard Belle (a close personal friend of the Chews), which she dedicated to the couple. She was accompanied on piano by her nephew, Tyrone Belle (part of our P2I family).
Ray Chew was also surprised with the AFM Lifetime Achievement Award.
This year's honorees join a "who's – who" of musical giants whose careers and works have been previously awarded the American Eagle, including Stephen Sondheim, Quincy Jones, Herbie Hancock, Clive Davis, Benny Goodman, Lionel Hampton, Dizzy Gillespie, Morton Gould, Dave Brubeck, Marian Anderson, Max Roach, Lena Horne, Roy Clark, Crystal Gale, George Clinton, Ervin Drake, Theo Bikel, Vince Guaraldi, Roberta Peters, Odetta, Patti Smith, Sesame Street, Hard Rock Café, and VH1's Save the Music Foundation.