Where unique pairings of vocal heavy weights in the secular and non-secular communities work collectively to present an evening of music, spoken word and dance.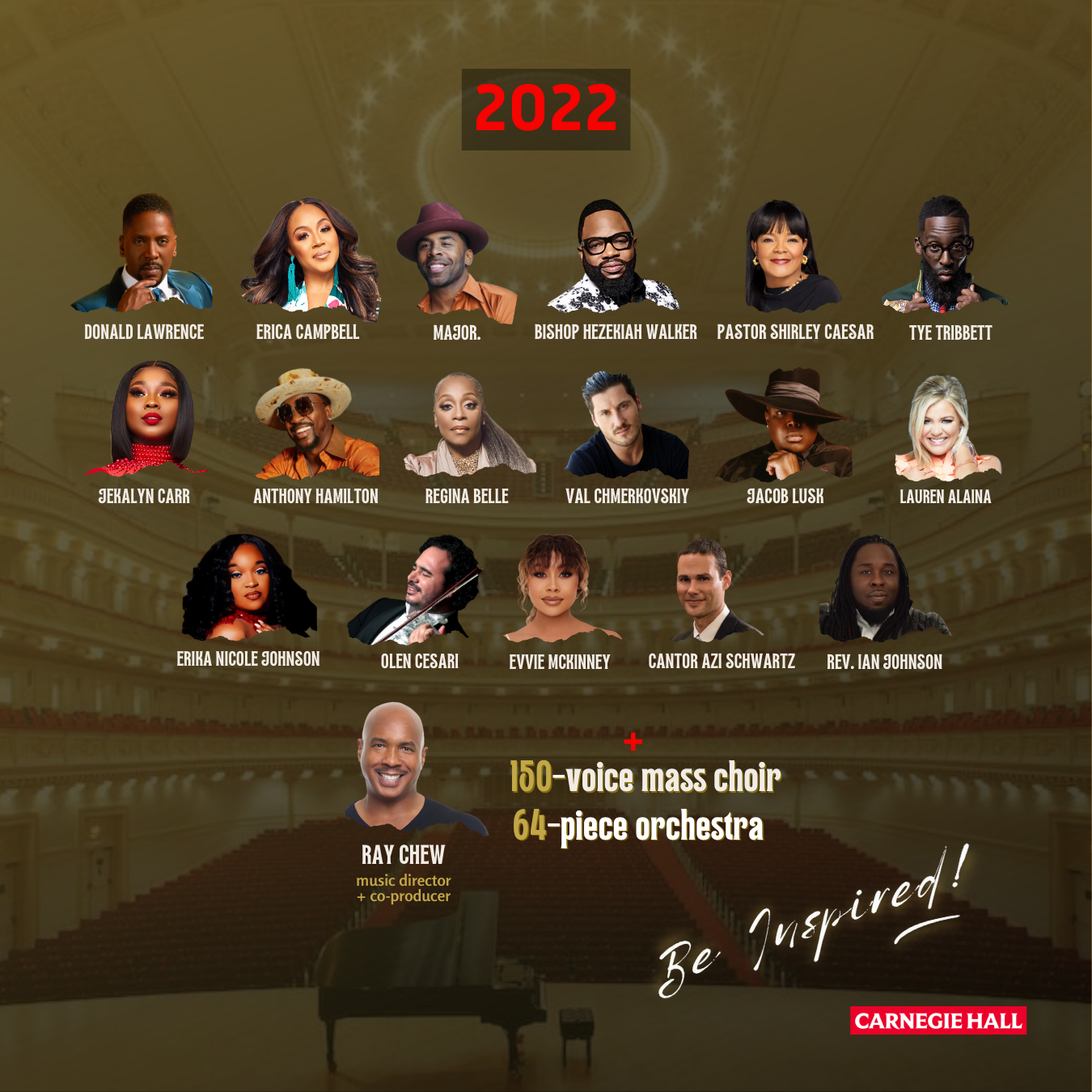 Night of Inspiration is an evening that intertwines music, spoken word, and dance into a mesmerizing tapestry of artistic expression. It brings together vocal heavyweights from both secular and non-secular communities, uniting their talents to transcend boundaries and ignite inspiration. Supported by a magnificent 64-piece orchestra and a 150-voice mass choir, led by Maestro Ray Chew; the event premiered with great acclaim at the illustrious Carnegie Hall in 2010. Its resounding success has led to bi-annual performances at this iconic venue, and plans to expand throughout the United States, Europe, and Africa are currently in the works.
Be Inspired.
PAST PERFORMERS
Adrienne Bailon Houghton · Anthony Hamilton · BeBe Winans · CeCe Winans · Bishop Hezekiah Walker · Cantor Azi Schwartz · Dionne Warwick · Donald Lawrence · Donnie McClurkin · Erica Campbell · Erika Nicole Johnson · Evvie McKinney · Fred Hammond · Israel Houghton · Iyanla Vanzant · Jacob Lusk · Jekalyn Carr · J.J. Hairston · Kenny Lattimore · Koryn Hawthorne · Kurt Carr · Lauren Alaina · Ledisi · MAJOR. · Michael McDonald · New Faith Music Ministry of Cape Town (SA) · Olen Censari · Pastor Shirley Caesar · Patty Griffin · Pauletta Washington · Phylicia Rashaad · Regina Belle · Rev. Ian Johnson · Richard Smallwood · Tenor Lawrence Brownlee · Travis Greene · Tye Tribbett · Val Chmerkovskiy · Yolanda Adams
PAST PRESENTERS
Clive Gillinson (Executive Director, Carnegie Hall) · David Ushery (News Anchor, NBC) · Fred Buggs (WBLS) · Liz Black · Mayor Mohammed Hameeduddin (Teaneck, NJ) · Meta Washington · Niece Tribbett · Pastor A.R. Bernard (Christian Cultural Center, Brooklyn) · Rabbi Elliot Cosgrove (Park Avenue Synagogue) · Rabbi Ethan Witkovsky (Park Avenue Synagogue) · Rev. Al Sharpton · Soledad O'Brien (Broadcast Journalist) · Toya Beasley
"From his earliest days in New York City, Ray Chew has been recognized as a unique and immensely gifted musical talent by so many iconic artists, composers and producers which has proven him to be one of America's greatest band leaders! What makes "Night of Inspiration" so aptly titled is not only the amazing night I participated in, but also the man it represents, Ray Chew."
"I am thrilled and over the moon about performing black gospel music at Night of Inspiration. Tonight, I get to sing at the very place that I dreamt and stood in front of 5 years ago and took a picture and said, I will be there one day... and today, I am here!"
"Night of Inspiration is an awe inspiring event that is so significant to me because it brings Gospel to one of the most prestigious stages in the world. Thank you Ray and Vivian for keeping Gospel in the forefront and allowing me to represent my genre of music for three years!"
"Being a guest artist at Ray and Vivian Chew's "Night of Inspiration" is an artist's dream. The colloborations are truly special moments that may never be seen again. Ray Chew, with his diverse musical abilities allows each artist to step outside of the musical formats that we are known for to become students again of musical exploration. Bravo!"
"Night of Inspiration at Carnegie Hall, is one of my favorite interfaith events. It's more than just making beautiful music with wonderful people, but a chance to feel solidarity in times when we need to be present in each other's struggles and triumphs. I am always eager to come back each year."
Throughout the years, we've been incredibly fortunate to be part of a multitude of inspiring events. We have played a significant role by either producing the event entirely, brokering the talent or meticulously curating the entertainment segment. Here are a few noteworthy examples of our contributions.